Sister Stebar here, Sister Kenemore and I got to go on exchanges today (thats where missionary's trade companions and learn how to become a better missionary) and she asked if I would do a blog entry, what a honor :) I wanted to share something I have thought alot about... Vineyards. Ha I love them. When I served in Cloverdale each week we made the 30 mile trip to Ukiah and we passed alot of vineyards. My sister and I use to play a game where, when we were driving we had to relate objects to the gospel, so I thought for old times sake I would play. There is a spot where there is a beautiful vineyard on one side of the road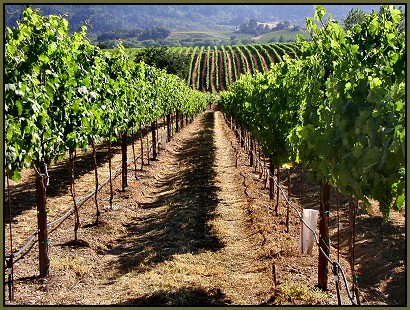 and then a untouched field on the other side.
And I was thinking how sad that a whole field is wasting away when the vineyard is producing fruit. It all clicked and I came up with the parable of the "vineyard and the field". In our lives we can choose which one we want to be like. The vineyard is beautiful, its balanced and perfectly in line. The field has its own beauty but it doesnt really compare to the vineyard... But if we look deeper the vineyard is constanly being trimmed, dug, and mowed. While the field goes unchanged. We might think to ourselves I wish I was a field, so I didnt have to hurt always being trimmed, bothered.But that isnt the case. Do you get what I am putting out there to become fruitful, to become orderly we have to go through hard things. But the out come is breath taking and inspiring. Brigham Young said,"God never bestows upon His people superior blessings without a severe trial to prove them". We are here to be corrected this is our learning time, we just have unplanned tests sometimes...Thomas Paine says it beautifully, "These are the times that try men's souls, the harder the conflict, the more glorious the triumph, what we obtain too cheap, we esteem to lightly." I am grateful for trying times. I want to close with a quote by President Hinckley,"All of us have problems. We face them every day. How grateful I am that we have difficult things to wrestle with. They keep us young, if that is possible. They keep us alive. They keep us going. They keep us humble. They pull us down to our knees to ask God for help in solving them. Be grateful for your problems. And know that some how there will come a solution. Just do your very best". I hope next time you feel pruned you will remeber change is a process not a event. Let God mold and make you into something breathtaking.